State of the Art.
Van-mounted window cleaning systems incorporate water-treatment filters and a large water tank so that a supply of pure water is always available, wherever a window cleaner needs to go. Without the need for an external water or power supply, vehicle-mounted water fed pole systems are the most flexible and practical solution to many high-level cleaning situations.
Built to Last.
We regularly fit existing window cleaning systems to new vans as our customers find that their Ionic Systems pure-water machine outlasts their vehicles.
You'll never have to ask your customers to use their water again. Simply set your system to fill up overnight, ready to go in the morning.
Many of our systems are fitted with automated features, such as; Periodic Flush System (PFS©), Reverse Osmosis Maintenance System (ROMS©). These features are designed to make your life easier, just connect to the water supply, set the system to go, and enjoy your evening!
All our van-mounted systems are rated as crash-safe. Ionic Systems has been awarded FMVSS-208 certification for our systems and remain one of the ONLY manufacturers to achieve this standard.
Black polypropylene water tank with advanced baffling technology for increased vehicle stability and safety.
Fill up overnight with your vehicle safely locked and secured. Stainless steel ports that will never rust or decay come as standard on all Ionic System vehicle installations.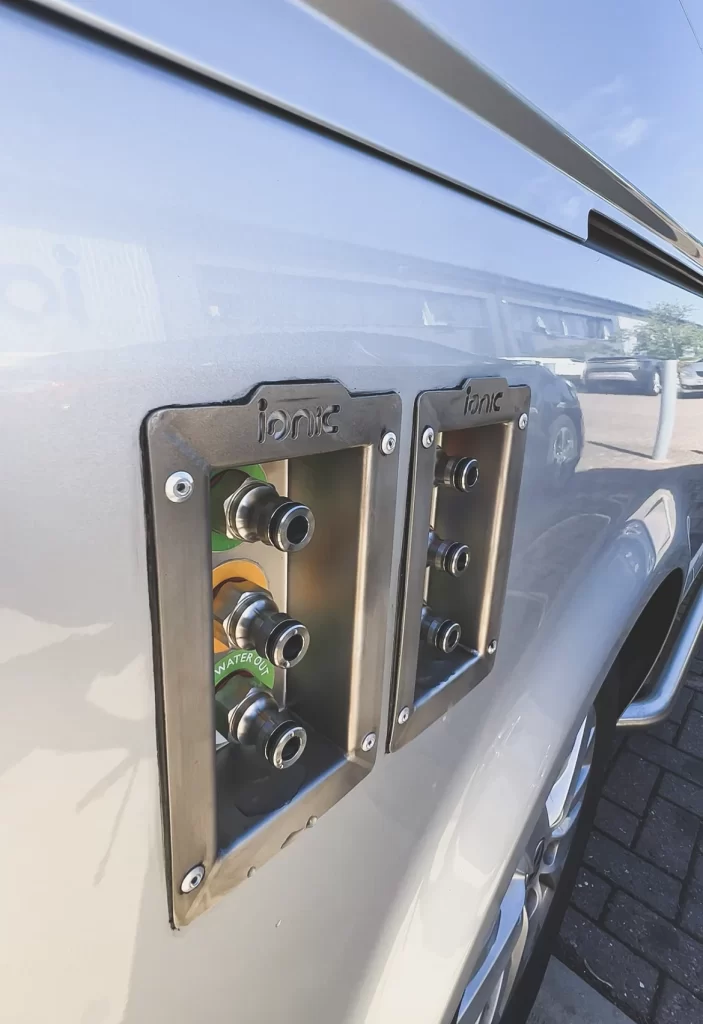 Custom-fit to your vehicle.
You will be guided through the process from start to finish by our experienced Sales & Production Teams. Every aspect of your Ionic pure water system will be customised to fit your business requirements.
Whether you are looking to fit a new system to an older vehicle or start with a brand-new vehicle from one of our partnered vehicle manufacturers, we've got you covered!.
Simply the
best
finest
on the market.
Click the thumbnails below to see what sets our systems apart from competitor brands.
Don't just hear it from us!
"Transferred my window cleaning system into my new van. Excellent service from start to finish. Will be back soon to get my heated water burner sorted.
Top guys & service!"
Installed Zero system in van, faultless service. Cost-effective and ultra-pure water leaves windows gleaming. Clients pleased with high-quality results. Always happy to help with any questions. Worth every penny and more!
I recently switched to Ionic systems for cleaning equipment. The staff I spoke to were very nice and helpful, and the products I purchased for my business are of excellent quality. I'm planning to visit Swindon soon to explore their latest equipment and offerings.