Setup and go. No certification or qualifications required.
Built for quality & safety
"A system that is environmentally friendly and can be used in all types of weather. Patented technology that dispels any doubts that using just water is the safest and most effective way to clean a roof."
– Steve Dunmore
Inventor
Choose between either 2 or 3 Turbo Nozzles when cleaning roofs. Whether you are looking for greater coverage or more precise cleaning, Roof Wand gives you total control over how much pressure is applied to the surface you are cleaning.
Carbon Fibre Mast can be extended up to 6m, with a further 70cm of remote vertical adjustment. Remote control actuators then control the horizontal motion, providing quick access across the roof.
200 Bar/2900psi

21 LPM

Honda GX390 engine (Electric/Pull-start)

6.1 Litre fuel capacity

Dimensions: 800L x 640W x 840H

Weight: 66.5kg
Sturdy and versatile pneumatic wheels. These are the same wheels used on the popular Trion© & Quattro© systems.
Revolution, Practicality & Simplicity.
Innovative design enables safe working from the ground.​
Rapid roof cleaning with continuous supported access across the roof from the ridge tiles down to the gutter, working safely from the ground.
Until now, roof cleaning has has always been a job that presents many challenges. Costly forms of safe access through the use of hired scaffolding or powered access are a significant barrier to a sustainable and profitable business model. Once access has been gained, multiple cleaning techniques – requiring additional equipment – are required to produce instant and lasting results.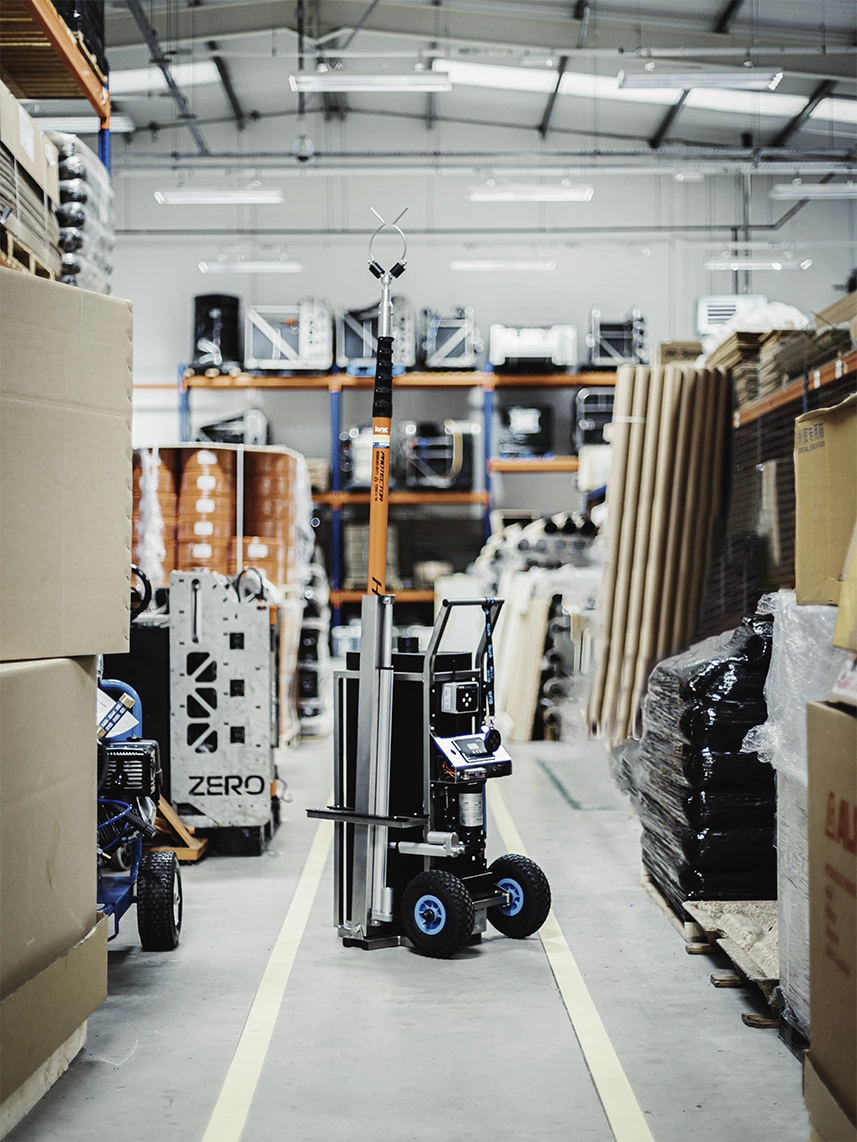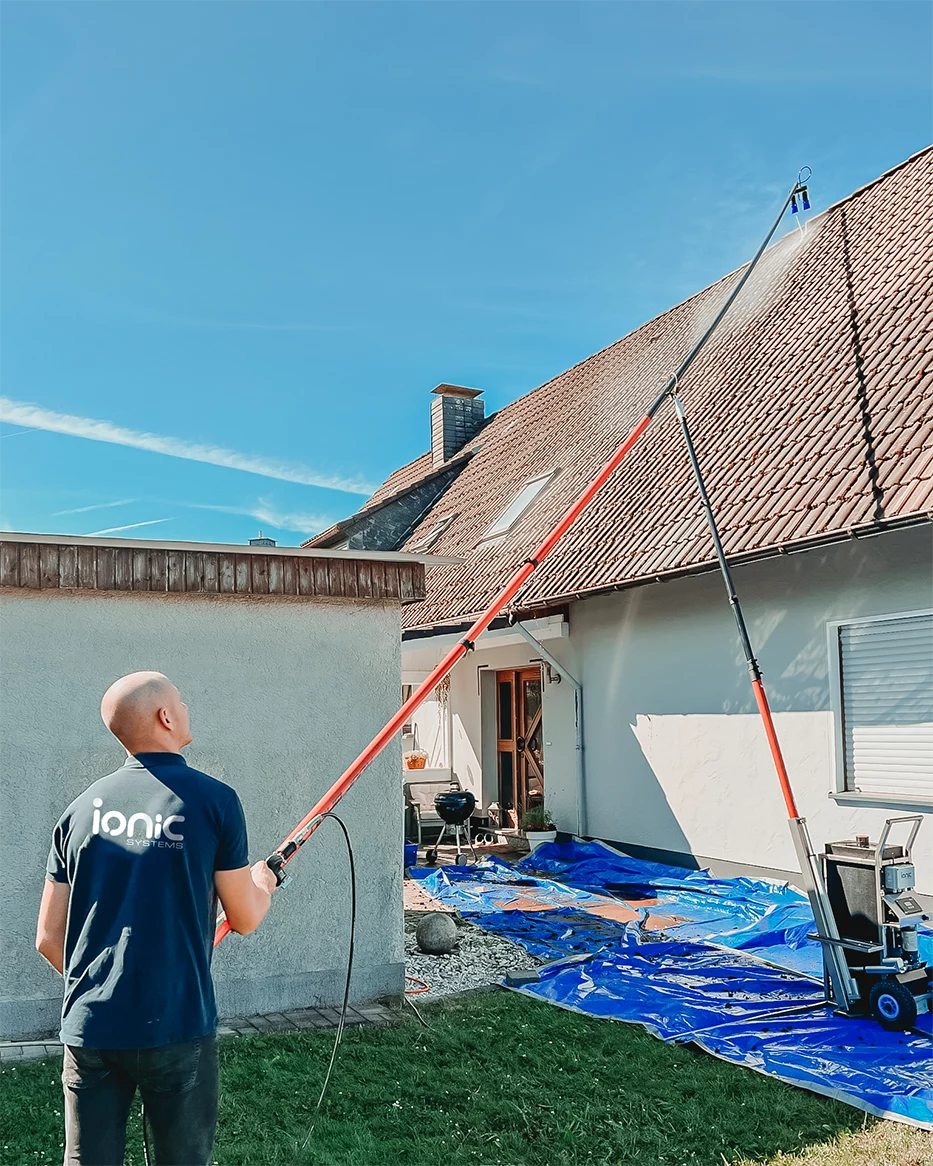 Roof Wand offers an all-in-one, safe alternative to pre-existing methods.
Roof Wand© offers an all-in-one, safe alternative to pre-existing methods of roof cleaning. Delivering quality service from the safety of the ground is now possible with this revolutionary new equipment. With Roof Wand©, it is now possible to offer customers a complete house cleaning package, without the need for costly access methods.
Patented actuator motion technology
Roof Wand© is highly manoeuvrable, able to be transported effortlessly.
However, its ability to pivot using a remote control that truly makes the Roof Wand© so easy to use.
Saving you time and energy.
Using a simple-to-use remote control, the operator can easily guide the mast.
The operator will rarely have to spend time repositioning themselves or the Roof Wand in order to access different parts of the roof. With the push of a button, the operator can reach the next area to clean.
Alternatively, the mast can be controlled from the trolley itself.
This feature was included not only as a backup in the unlikely event of remote control failure. On-trolley mast control is preferable for teams of two, enabling continuous working.
Drawing from our decades of window cleaning and roof cleaning experience, we are well aware that time is money. Thus, this system enables the operator to have the trigger on – cleaning roofs – as efficiently as possible.
Ultra-light carbon fibre poles
Strong, rigid & lightweight
Our carbon fibre poles provide superior strength, rigidity & lightweight properties.
This design is no accident.
Standard window cleaning poles are not strong enough to support the length of the wand. This led to many snapped and damaged poles. We have meticulously tested the poles you see now during the rigorous Research & Development phase so that you don't have to!
Roof Wand© will take on the workload, no more aching shoulders!
Combining the mast trolley support fulcrum and the ultra-lightweight carbon fibre wand sections allows the operator to work much more efficiently and effectively. 
A roof can now be cleaned in half the time it takes using traditional methods and half the amount of effort!
"What a brilliant job he's done! I was expecting him to be here for weeks cleaning and he was done in a couple of days. I'd heard that most people use a chemical to kill the moss which can take some time before you see results, so I was very happy to immediately see the house looking so good."
– Homeowner
Don't just hear it from us!
See what our customers are saying.
"The mast makes the whole job a breeze. Plus, with the remote actuators I can setup the Roof Wand in one spot that will cover the entire length of the roof. I've been finishing jobs nearly twice as fast as before!"
"The way it hovers makes it feel weightless, getting into those tighter spots is so easy! The mast just makes sense, it seems so simple but it makes cleaning a roof very easy."
Clean Solar Panels with ease
Want to see a roof cleaned in less than 2 hours?
Join us on a training course and get hands-on experience using the Roof Wand. Courses are instructed on a live job to give you the best training possible.
If you decide to purchase the Roof Wand kit, you will be refunded the full price of the course.
In the basic package, the Roof Wand includes:
With the Standard package, the Roof Wand includes:
All the features of the Basic package, plus...
Use of this feature requires pure water either produced by the operator's existing pure water filtration system, in-line water softener or externally purchased pure water.
With the Premium package, the Roof Wand includes:
All the features of the
Standard package

, plus...
Basic
Perfect for businesses with an existing window cleaning system looking to expand their services.
Mast Trolley (without Pump)
Standard
Ideal for roof cleaning professionals who already own a compatible pressure washer.
COMPLETE
Built for professionals looking for a complete exterior cleaning system.
Pressure Washer (Key Start)
Fill out the form below to be contacted by our talented & experienced Sales Team.