ZERO™ 0PPB Window Cleaning System
The Zero Reach & Wash® system represents a leap forward in pure-water cleaning. With several unique technologies, it is simply the most advanced system available.
Product Description
The Zero system represents the Ultimate in Pure water Window Cleaning Systems.
It was back in 1997 that Ionic Systems introduced The Reach & Wash® System, we told the World of Window Cleaning that water of zero parts per million (0ppm) was the standard required for spot free results. Yet in truth waterfed poles are not magic wands and both cleaners and customers alike sometimes experience windows left with less than perfect results.
Fifteen years later Ionic's new 'Zero' produces ultra pure water at zero parts per billion (0ppb) and that represents the gold standard. Water at 0ppb is one thousand times purer than water at 0ppm and because pure water cleans by dissolving dirt ions, it follows that water at 0ppb is capable of dissolving 1,000 times more dirt than water of 0ppm.
Other systems remove only dissolved solids from the water supply, uniquely the Zero removes both dissolved solids and all organics as well as bacteria from the water supply. The result is not only water that is 1,000 times purer but also ultra pure water that is free from micro-organisms such as legionella bacteria and the organic matter that bacteria feeds upon. A significant benefit is that bio-film cannot form upon the surface of filter media or the RO membrane that means that filters maintain day one performance which in turn means lower running costs.
As well as the superior cleaning power of 0ppb ultra pure water (also known as 18 MΩ or 18 Meg water) the Zero also offers the following benefits;
Fully Automated – connect water supply, switch on and forget
Automated Softener backwash
Automated RO flushing
Automated RO Optimisation
Automated Perpetual Polishing
Replaceable cartridge filter system
Running costs reduced by up to 30%
Standard features of the 'Zero' include;
Digital control panel for fully automated operation
LED Backlight
Stainless steel construction
30" Activated Carbon filter, 2 5 Micron Sediment filters, 2 Reverse Osmosis filters, DI and Perpetual NGDI filters
240v or 110v 100psi boost pump for rapid tank filling.
Crash tested component chassis.
Twin 12v delivery pumps.
150 amp battery, spilt charger and mains charger
Hours meter, Battery condition gauge, Dual TDS meter, Water pressure gauge.
0ppb 18 Meg Ultra pure water production.
Optional Extra
'S' model upgrade to stainless steel filter housings (2off) and 200psi boost pump for rapid tank filling at up to 6 ltrs per min.
Related Products
V4™ System
Like the Zero, The V4 is suitable for hard-water areas offers excellent pure-water production. the V4 is still one of the best systems available offering unrivalled quality and performance.

[elementor-template id="36157"]
View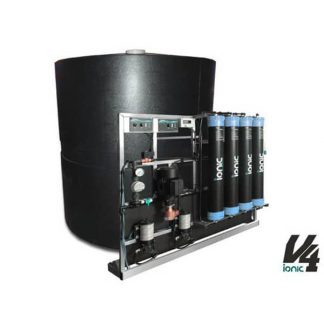 V4™ Static System
The V4 Static system is simplicity itself. 4-stage water treatment comprises Carbon, Sediment, Reverse Osmosis and De-ionising filters.

[elementor-template id="36157"]
View
V4™ Thermopure Hot Water System
The new V4™ Thermopure fills the gap between the Zero™ with 0PPB water quality and Ionic's cold water V4™. The name V4™ signifies version four of the original Reach & Wash ® system and previously if you wanted hot water then your only option was to run a HotBox™ alongside.

[elementor-template id="36157"]
View