Thermo Fogger™ (FREE TRAINING)

Covid -19 Sanitisation System for internal and external surfaces.

Disinfection of any area where people may come into contact with Covid-19 is key to being able to reduce and eliminate the spread of this nasty highly infectious disease.

*Please note. This is a collection only product from our Swindon office. FREE training when collecting your Thermo Fogger
Product Description
Ionic Thermo Fogger
TM
works on a tried and tested engine principle, of propulsion of rockets, running on regular petrol. A fuel/air mixture is ignited in the combustion chamber and the deflagrations oscillate a column of gas in the resonator pipe. At the end of the resonator, the fogging mixture is injected into the air stream emerging at high velocity, and dispersed into fine aerosol droplets, which are distributed into an extensive, dense fog. The Thermo Fogger
TM
, allows operatives to work independently, and move quickly without the need of an electric power source, to rapidly fog internal areas with Vanoquat, which has passed the EN 14476 test against Vaccina (Covid-19) and can be legally recommended for use against human Coronavirus. *All equipment supplied, will come with training in chemical mixing, application and use of correct PPE, with certification from The British Window Cleaning Academy.
Fogging Facts
1) Fogging is a time-based process rather than a skill. What this means is that even the least motivated operator will be 99.99% effective compared to a cleaning operative undertaking conventional cleaning/disinfection by hand.
2) Thermal Fogging is quick! A coach or bus can be completely decontaminated in just 2 minutes, a 24,000 square foot factory in just 20 minutes.
3) Even in a heavily contaminated space the operator is protected from Covid-19 by the process itself.
4) When space has been fully fogged, as well as the airspace, every surface top and bottom, vertical, angled, horizontal and recessed, hard or soft furnished will have been treated and will be decontaminated against both viruses and bacteria.
5) Certain disinfectants such as Sodium Hypochlorite (bleach) and Quat's (Vanoquat) kill the virus in seconds.
Download the Brochure with pricing
Read the full article by craig mawlam
Related Products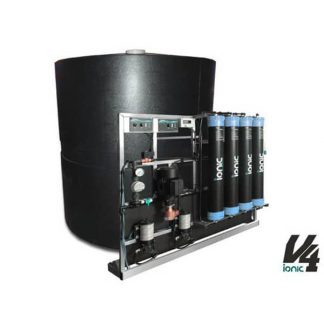 V4™ Static System
The V4 Static system is simplicity itself. 4-stage water treatment comprises Carbon, Sediment, Reverse Osmosis and De-ionising filters.
View
Task™ Trolley System
The TASK™ trolley is designed to get in where a vehicle would struggle, this portable systems is useful for all situations.
View
V4™ Thermopure Hot Water System
The new V4™ Thermopure fills the gap between the Zero™ with 0PPB water quality and Ionic's cold water V4™. The name V4™ signifies version four of the original Reach & Wash ® system and previously if you wanted hot water then your only option was to run a HotBox™ alongside.
View