Constant Flow

Features and benefits:
Automatic smart pressure technology
Eliminates manual pumping
Continuous equal flow rate
1 charge lasts 4 hours
9.5 litre capacity
Product Description
The Constant Flow Touchless foam spray system uses Smart Pressure Technology packaged in a detachable, rechargeable, lithium ion power pack which electronically pressurises and maintains the air pressure in the tank. Due to the latest power density technology, the lithium ion power cells are maximized when air is pressurized in the tank.
The power pack allows for 4 hours of continuous use.  it provides the optimum pressure for even distribution of Contact chemical foam – no more pumping and guessing if the pressure is correct. Constant Flow allows for precision delivery of chemicals and a reduction in spray time.
The Power Pack is easy-to-use, just attach it to the tank with just a push and a click, turn it on and it automatically starts working. To remove, just rotate the knob while the tank is still under pressure.
Related Products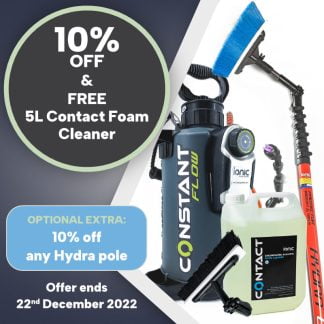 Complete Constant Flow & Hydra Pole Package
(Discounted price – £817.3 – £918.54)
View
Vertigo Spray Nozzle
The spray nozzle attaches to the Vertigo waterfed pole Q/R head assembly for use with the Constant Flow unit.
View
Foamion™ Soft Washing System
Foamion™ is a cost effective add on machine, and it works in conjunction with your existing Reach & Wash® System

[elementor-template id="36157"]
View